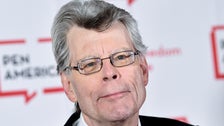 Author Stephen King on Thursday morning shared his top tip to stop arguments about politics from ruining Thanksgiving.
The horror novelist, who is a vocal critic of President Donald Trump, tweeted "five magic words" to help nip such family rows in the bud.
"Hey! Let's talk about baseball!" wrote the longtime Boston Red Sox fan.
And when the political arguments begin, remember the five magic words: "Hey!let's talk about baseball!"

— Stephen King (@StephenKing) November 28, 2019
King's post immediately went viral with his 5.6 million followers.
But not everyone agreed with his idea. Some people suggested talking about sports could cause even more animosity. Others, meanwhile, just couldn't help turning the conversation back to politics and Trump:
No, this is what you say: Trump was extorting a vulnerable ally until he found out about the whistleblower. Then he release the money to the Ukraine. If he gets away with this, the next Dem President can do things like this too. Think about it.

— Ifawomandidit (@ifawomandidit) November 28, 2019
yes !
an entire stadium booing the fake President 👹

— timbo (@HiltTimothy) November 28, 2019
and when their fans appropriately booed the mf

— like🐜in🐜beetlejuice (@lydiaelise) November 28, 2019
I'd rather ruin the party with my need to be right

— ern (@BamootFeeki) November 28, 2019
That's so smart! I would have gone w football, but it's so much better to suggest something that's in the off season. You're a master!

— Jessica Bowers (@MsFader) November 28, 2019
Um, I'm a Yankees fan in Boston. Politics is safer.

— Tom Holmes (@tomholmes2016) November 28, 2019
Me to 13yo: When anyone mentions anything political, look at it your food and hear "lalalalala" in your brain. We cannot fight the entire country club this afternoon. Do not start crap today.

— Rogue Ivanka 👠👜🍷🍑 (@IvankaRogue) November 28, 2019
Or talk about "tv-it" vs. "movie-it"

naw, wait – that's worse than political arguments.

— Marcel (@trancefish_de) November 28, 2019
Can be just as polarizing. Especially in households on the East Coast, Boston vs New York, Yankees or Mets. Lol.

— 🎃💀Mumchkin(Joy)⚰️🧟‍♀️ (@Mumchkin13) November 28, 2019
If that doesn't work, try repeating these ten words over and over: "All work and no play makes Jack a dull boy."

— Larry Noble (@LarryNoble_DC) November 28, 2019